Who We Are
MACHINERY EUROPE s.r.o. (former Polygrafické stroje s.r.o.) is the Czech leading company on the market for used printing and binding machines in Central Europe. The foundations of our company were laid in 2000, when a family enterprise of the current owner David Frank engaged in printing production has been reoriented to the area of trading with used printing, binding, and finishing equipment. Despite of the fact that, compared internationally, we are relatively young firm, during the twelve years of our existence we have slowly risen up to the level of the main players not only of the Czech, but also of the Middle Europe region. We are one of the few main operators in our area, who can purchase and sell complete inventories, and provide move full services.
Our company is based in Prague 4 – Roztyly and also our storing space is to be found in Prague, in its parts called Stodůlky and Horní Počernice.
We have a rich experience in dealing not only on EU market but also outside it. We cooperate closely with dealers and sales agents from all over the world. Over the last 15 years our export to 35 countries amounted to few hundred machines – among other countries it was India, China, Iran, Turkey, Ukraine, Russia, Brazil, Nepal, Pakistan, Kenya, Colombia, and others.
Our Team
Our staff is formed, among others, by a multilingual sales team with good technical knowledge and the readiness to answer wide range of our customers´ needs.
We are able to deal with any type of machine, from the simplest to the most technically advanced and from the smallest to the biggest ones, of various age, including accessories, materials or furniture for printing houses, bookbinderies, and graphic studios.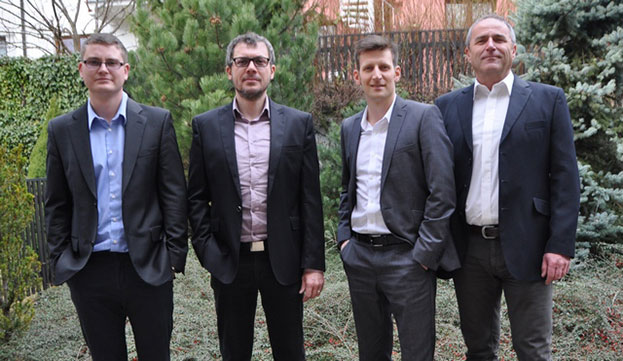 Our Database
We have created an extensive daily updated database of machines available in Central Europe.
Most of the machines offered are permanently placed directly in active operation in printing houses, mainly in the Czech Republic and Slovakia, but also in Poland, and Hungary.
Since there are thousands of machines permanently offered by our international partners, it is not possible to place them regularly into our offer, thus, only records of such machines are kept by us and these machines are offered only once a particular demand is made.
When looking for a purchase of any pre-owned printing or binding machine, our dedicated team is always ready to assist and search for the right equipment out of our extensive database of machines and equipment from all over the world and to contact you as soon as we find it.
Machine Purchase & Appraisals
For those of you who would like to sell your surplus machine, here we offer our services consisting in appraisal, purchases or the possibility to market your machines.
At our website, we have the facility for you to market your own equipment for sale, free of charge.
If possible, prior to purchase, all machines are inspected and given honest appraisals.
Keeping constantly in touch with world graphic machinery market, Machinery Europe s.r.o. can always offer up-to-date valuations of the machines in its range, from individual items to complete plants, and thus save your time. We permanently assess market conditions in order to meet your requirements whenever buying or selling your machine.
We are capable of providing assistance in appraisals to finance companies, mainly to banks and leasing providers.
We have financial background enabling immediate decisions and commitment to buy surplus machinery for stock or part exchange, but our possibilities are of course limited in certain way.
With the availability of time, the sale of a high valued machine or plant may be realized on a sole agency basis for a commission, allowing higher return than conventional sale and in such a case we are able to put seller and buyer together.
Financing
We are able to help you with financing. Upon your request, we can connect you with the leading providers of financing or leasing of the purchase of used printing and binding equipment.
Dismantling & Loading And Other Services
The other part of our staff is formed by the team of professional skilled engineers which, together with the sales team, offer technical inspections, valuations and consultancy, dismantling and loading, shipping and transport, installation and operator training, factory move service, etc.