Sheet-fed Offset Printing Machine
#19013
Sold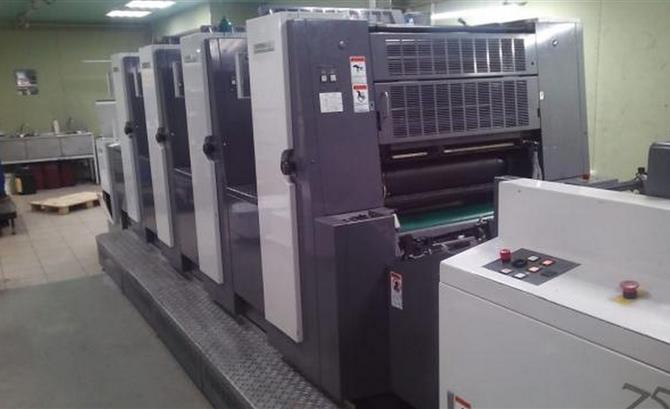 Machine CV Download the offer as PDF
A Curriculum Vitae (CV), (also spelled curriculum vitæ), provides an overview of a person's experience and other qualifications. In some countries, a CV is typically the first item that a potential employer encounters regarding a job seeker and is typically used to screen applicants, when seeking employment. Curriculum Vitae is a Latin expression which can be loosely translated as [the] course of [my] life.

In some way, the machines in our offer are like human job applicants. Some machines are almost new, like a freshly graduated person, while others already have many years of work experience behind themselves. Some machines are more suitable for one kind of activity, whereas others are more suitable for another kind of activity. But, what all the machines have in common is that, from various reasons, all of them are at the moment freed from their last services and are searching for the possibility of a new employment. So, through the CV of every particular machine, meet all the information we were able to get on them.
Basic information
Manufacturer: Shinohara Machinery Co., Ltd., Shizuoka, Japan
Production Year: 2005
Number of Colours: 4
Max. Size: 580x745 mm (22.8"x29.3")
Max. Speed: 13000 imp./hour
Counter: 104 mil. imps.
More Details
alcohol dampening
Baldwin refrigeration device
no perfecting
low pile delivery
ink and register remote control
semi-automatic plate loading
plate punch
ink rollers, blanket cylinders automatic wash up device
powder sprayer
vacuum belts in feeder
feeder and delivery ionizer
CIP 3
memory for 1000 jobs
Beil offset plate punch
Condition of the Machine
Functional, condition and wear and tear according to its age, well maintained.
Still in production.
Availability: immediately
Sale Reason: production reduction
Services
If you would like us to arrange Turnkey Dismantling, Loading, Transport or Installation for you – See Services