References
Upon your request, we are always pleased to provide you with references.
Just to illustrate, we chose few pictures of the trades made, dismantling, loading and installations:
WUPA
December 2014 / January 2015
Transport of large format WUPA die cutting machines from Loděnice to Soběslav for GZ Media
WUPA 6.3 C - 40 tonnes
WUPA 6,2 A - 30 tonnes
MACHINERY EUROPE provided complex relocation (dismantling, loading, transport, unloading and installations) and service (condition check, cleaning, maintenance and adjustment).
Everything was to the satisfaction of the contracting customer.
KBA 66-4 (2008) / POLLY 466 (1997)
April 2015
Sale of sheetfed four-color offset printing machine KBA 66-4 from printing house DRUK FONT (Poland) to printing house PETŐ Bt., Mezőkövesd, Hungary (including transport, installation and training).
Purchase of sheetfed four-color offset printing machine POLLY 466 from the printing house PETŐ Bt. and subsequent sale in India.
POLLY 466
RILECART PB 796 HD (2002)
April 2015
Purchase of "TWIN" RILECART PB 796 HD machinery for the production calendar bindings from the printing house Logik (Czech Republic) and sale to printing house Bright Print Ltd. (New Zealand)
HEIDELBERG CYLINDER (1970)
January 2015
Sale of letterpress machine with hot foil stamping HEIDELBERG CYLINDER from the printing house GRAFOBAL (Czech Republic, Holubov) to printing house Sanem Hungary Kft. (Vecsés, Hungary)
NILPETER FA3300 (2002)
June 2014
Sale of 8-colour flexo rotary press NILPETER FA3300 to Anton Vasiliev, LLC "Arena Label" (Russia) from printing house S&K LABEL (Czech Republic)
KBA Genius 52-5 F-UV (2003)
May 2014
Sale of sheetfed offset printing machine KBA Genius 52-5 F-UV from Germany to the Czech Republic for the printing house ATIX,Radek Kučírek (delivery and complex installation)
SOLNA COMERCIAL C 300 (1997)
December 2013
Sale of four-color offset rotary press SOLNA COMERCIAL C 300 from the Estonian printing house Printall AS to Iraq for the company VISUAL ART, Bagdad, dismantling and loading of 50-ton machine into 5 containers
Heidelberg-Harris M600
Spring 2010
The sale of Heidelberg-Harris M600 web offset machine from the printing house Merkurtisk, Náchod, Czech Republic to Beijing, China (including dismantling and loading into containers)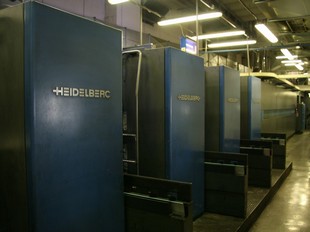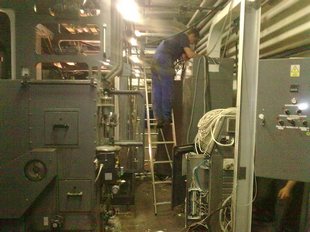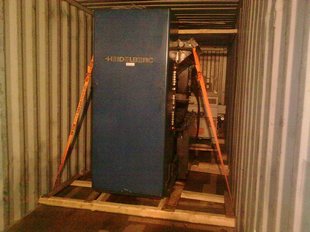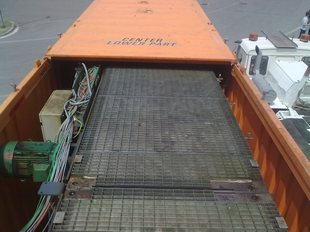 Fall 2009
The change of main printing machines for newer ones in the printing house PHU Bel-Druk in Tarnow, Poland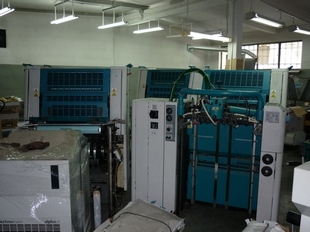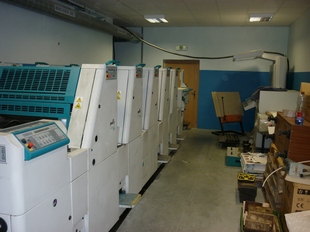 Annual sales of many containers with machines destined for Asia, South America, and Africa.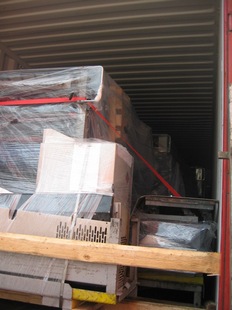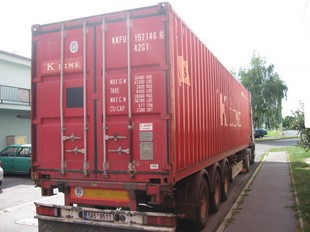 Summer 2008
The sale of flexographic machine Arsoma to German printing house Hilro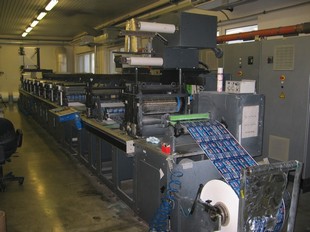 2010
We are able to purchase even machines others are not able to cope with – e.g.an old Pivano offset machine, Milano, Italy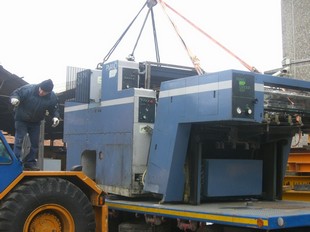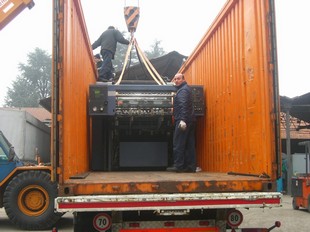 Spring 2011
The Kolbus KM 470 gathering and perfect binding line sale to Indonesia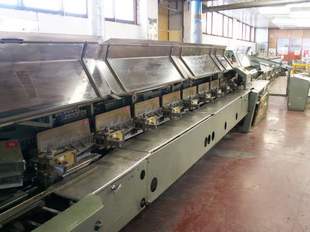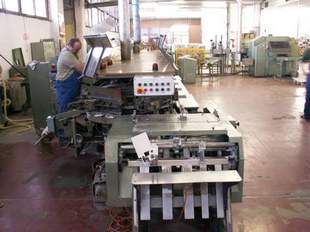 Fall 2011
MAN Rotoman web offset machine – a sale to Turkish printing house